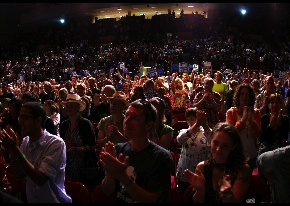 Well, this is quite interesting. Thousands and thousands of people for Nader. He received 12,000 votes there in 2004 and 97,000 votes in 2000. So, this shouldn't be a big surprise.
While this isn't a 10,000 person super rally like 2000, it is impressive.
A Google News search of "Nader, Denver," didn't yield much press about the event, just a couple of blog posts by Ruth Conniff of the Progressive, clearly not understanding how furious some people are, and a guy from the Hartford Courant who was actually much kinder. Asleep at the wheel again.