Gettin' Kerry to resign:
Citizens United, a conservative grassroots group in Massachusetts, is collecting signatures to try and force Kerry to resign:
["Citizens group hits Kerry on no-show"]
. The reason? Well, Kerry missed a vote on extending jobless benefits to the unemployed - which failed by one vote:
["Senate rejects extended jobless benefits"]
. Way to show you're "Fighting for us," eh John?
Speaking of Kerry, he won't be taking up Dennis Kucinich on his offer to do a joint appearance in Oregon tomorrow. According to his travel schedule, Kerry will commemorate the 50th anniversary of the Brown v. Board of Education decision in Topeka on Monday morning, arrive in Portland around 1:20 p.m., rally with Howard Dean at 5 p.m., hold a roundtable discussion to "Expand Economic Opportunity and Build a Stronger America" somewhere around 9 a.m. on Tuesday, and then depart at 11 a.m. I wonder if Kucinich will crash the event or just mope around somewhere.
And what about all this McCain stuff?
["Undeterred by McCain Denials, Some See Him as Kerry's No. 2"]
. Won't the Washington cocktail crowd and the media please let this thing die? John McCain is a Republican. He has endorsed President Bush. McCain is pro-life, pro-free trade, pro-drilling in ANWR, pro-Iraq invasion, etc. Sure, he shoots from the hip and people like him. But so does Jesse Ventura and you don't see him being offered the ticket. Please, just stop this nonsense. Stop it now!
Kerry also received the endorsement from the International Brotherhood of Police Officers earlier this week:
["Police union rejects Bush, backs Kerry"]
.
And then there is this:
["Rolling Stone Editor Rallies Artists for Kerry"]
. I wonder if Wenner will airbrush Kerry's manhood on the cover to make him look more, ahem, more endowed - like he did for Al Gore:
["http://www.drudgereport.com/rs.htm"]
.
Battle between the red and blue - in New Hampshire: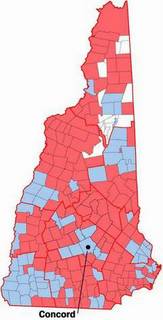 Results from the 2000 election. Red represents towns George W. Bush won. Blue is where Al Gore won.
I forgot to post this series, "Politics in Red and Blue," earlier this week in the Concord Monitor analyzing the 2004 election. The first four were from the Washington Post and then the Monitor localized the concept. Interestingly, they call undecided/swing voters "purple" or a combination of blue and red. But what if you want neither? What is Nader's color? Last time it was Green. This time? Don't know. To be designated purple, one has to be seriously considering a vote for Bush. Since I won't be voting for Bush under any circumstances, I wouldn't really be purple, maybe dark green [a combination of blue and green, according to the color wheel] or some other color. Don't know. Here are the links:
["Bush and Kerry reflect nation's big political rift"]
.
["Across America, a wide political divide"]
.
["These Democrats keep finding hearts in San Francisco"]
.
["At home at the political extremes"]
.
["Is there such a thing as a purple person?"]
.
["Concord's blue Ward 4 stays true to liberal heritage"]
.
["What's quaint and red all over?"]
.
["Red against blue"]
.
["Politically, state is up for grabs"]
.
MA CD 5: Meehan gets challengers:
Democratic Rep. Marty "Osama Bin" Meehan will have a Republican challenger once again this year. However, will it be the Libertarian-Republican or the Democratic-Republican?:
["2 Republican candidates compete to unseat Meehan"]
.
Nader still pulling support from both sides
While national preference polls are meaningless, here is more evidence that independent candidate Ralph Nader is pulling votes from both the Republican and Democrat nominees:
["Poll: Support for Bush, Iraq war dropping"]
. Without Nader: Kerry 51, Bush 46. With Nader: Kerry 49, Bush 44, Nader 6. Nader "takes" 3 percent from Kerry and 2 percent from Bush. So much for worrying about Nader taking only from Kerry.
Sunday polls:
On Sunday mornings from time to time I am going to post the latest polling data from states around the country.
Arizona: Bush 45, Kerry 37, Nader 7, Undecided 11 [Behavioral Research Center].
California: Kerry 46, Bush 45, Other/Undecided 9 [SurveyUSA].
Florida: Kerry 48, Bush 46, Nader 3 [Hamilton Beattie & Staff ].
Florida: Bush 44, Kerry 44 [Rasmussen].
Illinois: Kerry 47, Bush 39, Nader 2 [Mason-Dixon].
Kentucky: Bush 52, Kerry 40 [Bluegrass Poll].
Michigan: Bush 44, Kerry 40, Nader 2, Undecided 14 [Mitchell Research & Communications Inc.].
New Jersey: Kerry 43, Bush 37, Nader 2, Undecided 18 [Star-Ledger Rutgers/Eagleton Poll].
Ohio: Kerry 49, Bush 42, Nader 2, Undecided 7 [American Research Group].
Oregon: Bush 44, Kerry 39, Nader 0, Other 7, Undecided 12 [Other was not specified but since there is primary there Tuesday, who knows. Riley Research]
Oregon: Kerry 47, Bush 45, Nader 3, Undecided 5 [Research 2000].
Oregon: Bush 45, Kerry 45, Nader 5 [American Research Group].
Pennsylvania: Kerry 49, Bush 43 [Bennett, Petts & Blumenthal].
Utah: Bush 67, Kerry 22, Nader 3 [Deseret News].
Wisconsin: Kerry 49, Bush 40, Nader 2 [Lake Snell Perry & Assoc.].
Vermont: Kerry 51, Bush 36, Nader 4 [Research 2000].
Samboni now has it at Kerry 258, Bush 226, Undecided 54. Two weeks ago he had Bush 266, Kerry 245, Undecided 27:
http://www.geocities.com/samboni1342/state_polls.htm
.
David Wissing has it at Bush 280, Kerry 256. Two weeks ago he had Bush 300, Kerry 238:
http://www.davidwissing.com/bushkerrystate2004.html
.
Arrrgh, let's getta some gold!
Pretty interesting story about treasure hunting in Jamaica:
["Jamaicans Angry Over U.S. Treasure Hunt"]
. The problem I see with this is that it is a total giveaway to the treasure hunters. Sure, they should be able to reap some of the spoils - but half? I don't know. That seems like a lot, especially when the majority of people in Jamaica are pretty poor. Although, there are thousands of poor people in our country and we give away all kinds of natural resources to business interests for nothing all the time. However, some of these items - if not all - belong in a museum, not unlike Egyptian or other rare artifacts.